By: Gabrielle Cecala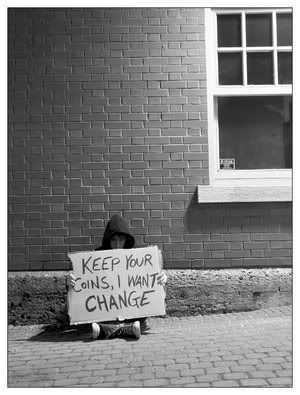 Life is a wonderful thing that many of us take for granted. To be able to smell, hear, feel, taste and see is so amazing. The senses by themselves are completely & utterly beautiful ! Many people are born with disabilities and are not able to to do some or if any of these things. Some people live in absolute poverty and are not able to smell a home cooked meal, let alone eat one. Now-A-Days, We often take food, friends, love and life all for granted. There are children in the world that will never get to experience a hearty meal nor a real hug from someone who truly loves them. I know that we all have our problems, but there are others that have it so much more worse than we do.
Poverty stricken families are not only in 3rd world countries, but also here were we live. We pass by homeless people every day. Do you ignore their cries for change or do you give to those in need? In order to become a group or a culture, one must start it and others must follow. I speak about the homeless and hungry people because I have helped those people. When I was younger, a few years back actually, I volunteered for 3 years at Methodist Hospital just so I can help those who are less fortunate than I am. There are people in those hospital beds that are left there to die and have no one to talk to nor visit them. I didn't know any of them , but I still cared for them as if they were my own family. I know what it is like to not have anyone and it is a terrible, miserable feeling. I have been starving with no food in my kitchen. I have seen my mother steal cat food just to feed our animals. I have been there and done that. To those of you that laugh at that, shame on you. To those of you that understand where I am coming from and what it is like to be at the lowest of low,

follow with me

. We don't need to give millions of dollars to charity in order to make a change. A penny can go a long way. Pennies amount to dollars. It seems as if now a days the norm is to not give to the homeless. It saddens me to see this type of behavior from people who I know and also whom I don't. Although "it's a recession" is a popular reason for not giving, through my eyes it's just a poor excuse to not give to those who need money more than we do. Next time you see someone in need, give a little .. I promise that good deed will come back to you 10 times greater.